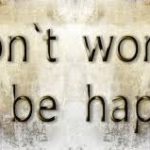 Based around Philippians 4:1-9, Matthew 22:1-14.
Note this sermon was preached at both the 10:30am and 6:30pm, but was written originally for the evening service where Isaiah 25:1-9 was one of the set readings.
When I'm asked to preach, I take a look at the readings that will be used, read them, pray around them and then put them on one side for a while to allow them to simmer.  Sometimes one will immediately leap out at me as being the one I feel moved to preach on; other times, it takes longer.
Until about 10 days ago, I was planning on preaching on Isaiah.
However, the Holy Spirit often has different plans for us.  I belong to a Facebook group for the US Episcopalian Church – our Anglican brothers and sisters in Christ in the US – and one morning I saw a post that suggested that worry was a sin.  My compassion was outraged; the exact words I posted were :
'I'm sorry but " please be aware that such emotions are considered a sin in the Lord's eyes:" is, to me, spiritual abuse and may well deflect people away from a relationship with Jesus at the very time that they need it.'
And almost immediately after posting this I thought…hang on a minute…and returned to the readings for tonight.
And there, in Philippians, was Paul's instruction to us:
"Do not worry about anything, but in everything by prayer and supplication with thanksgiving let your requests be made known to God."
Not quite explicitly labelling worry a sin, but enough to make me think that maybe I needed to think about Paul's letter to the Philippians rather than Isaiah.
And to finally dive the point home, another article was bought to my attention from an email list I subscribe to that looked at Peter and worry.
I can take a hint, Lord.
And so, here we are.
The reading from Paul is part of one of his pastoral letters. Verses 2 and 3 refer to Euodia and Synteche – two prominent women leaders of the Church – who were having something of a disagreement that was causing problems.  Quite what the disagreement was about, we're not told; but it was enough for Paul to exhort everyone involved – including the person he gave the letter to (the 'loyal companion') to try and resolve it.
We can look at the rest of the reading tonight almost as series of bullet-points that Paul provides to help with the dispute – whatever may have caused it.  And I think we can also apply these suggestions to quite a lot that happens in our daily lives.
We are told to:
Rejoice in the Lord, and be known for your kindness and gentleness.
Don't worry; pray and allow the peace of the Lord to fill your hearts and minds.
Think about the good things that you're doing, that you're experiencing, and focus and build on them.
Paul reminds us in Verse 4 to always rejoice in the Lord; I guess that if people ARE rejoicing in the Lord, it's probably harder for them to have a good row!  And, thinking about it, why shouldn't we all rejoice in the Lord; there is God the Father – the creator God….there is Jesus, who loves us despite ourselves….there is the Holy Spirit, that brings the Grace of God to us, that opens our minds and hearts to the works of the Father and the Son.  Why shouldn't we rejoice in the Lord?
And then we come to the verse that I was reminded of on Facebook. Just to remind us:
"Do not worry about anything, but in everything by prayer and supplication with thanksgiving let your requests be made known to God."
And it's NOT just Paul – after all, we know that Paul can get a bit grumpy.  In the first letter of Peter, Chapter 5,, we read:
" Cast all your anxiety on him, because he cares for you."
Now, I don't know about you, but I get concerned and anxious about stuff. More than I should. Always have done; I started young, and even now I guess I'm something of a worry-wart, so you can see why I encountered this verse with some trepidation. Many people come to faith in the depths of worry; a good number even stay with Jesus when times get better! But to be told not to worry, but to pray instead? To cast our anxieties on God? Where does this leave us?
There is a famous quotation, attributed to Oliver Cromwell:
"Put your trust in God, but keep your powder dry." Wet gunpowder in a musket or cannon wouldn't burn – the message here is that Cromwell trusted in God to deliver the day, but accepted that he had to play his part.  Think of Gideon, dealing with the Midianites. God basically prunes his army down to a few hundred men – God effectively telling Gideon that 'I'm with you on this, you can do it!' but Gideon still whittles AND God still expects him to do something towards winning the battle – to go and listen in the camp of the Midianites and to take to the field.
Now, back to me and my anxieties. I look at what I'm anxious or concerned about and ask myself the simple question: "At this moment in time, have I done everything that is within my power to deal with the situation I'm anxious about?"  If I answer Yes – so be it, that's all I can do, I thank God and pray for his continued strength, guidance and grace.  If I answer "No" to myself – then rather than worrying, I look to identifying what I still need to do, then pray for God's help in getting me through the task.
I think Paul is highlighting the difference between valid concern that can be acted upon, and that all-encompassing, paralysing, deep-seated worry that for so many of us stops us in our tracks and can, for a while, become something so big that it's almost an idol – a negative, fearful, idol that deflects us away from God.
I've had moments in my life when worry has paralysed me; it becomes the most important thing in my life; it feels like it will never go away. I think that this is what Paul is actually warning about; when we feel that the worry itself becomes bigger than God's grace in our lives.  Paul reminds us here of two things for dealing with worry:
That by prayer and supplication and thanksgiving we should put our requests and in God's hands.
And that by doing so, the peace of God, which surpasses all understanding, will guard your hearts and your minds in Christ Jesus.
This can sound a bit platitudinous, but when we are truly in that place with worry, where we have done all that we can possibly do, worry does nothing but get between us, our friends and family, and God.  When is there a better time to fall back on God's grace to help us?
I can imagine that this sort of idolatrous worry wouldn't have helped matters between Euodia and Synteche and the rest of the Philippi Church elders.
And it doesn't help us.
And Paul's final thoughts tonight? Keep doing the good stuff. Keep catching each other out in being good. Focus on excellence – now that sounds like a modern day management theory, doesn't it? Give praise when praise is due.
It's hard to imagine that those problems in the Philippi Church would survive such a strategy; Rejoice in the Lord, be nice to each other, don't be paralysed and side-tracked  by worry and despair, focus on excellence and give praise where praise is due.
Perhaps our day to day problems and concerns might benefit from some Pauline management skills, summed up in the lyrics of the song by Bobby Ferrin:
"Don't worry, be happy"
Amen.
Reader Joe Pritchard