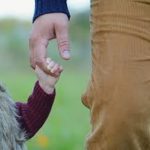 Based around Romans 5:1-8 and Matthew 9:35-10:23
"Our Father, Who art in heaven, hallowed be your name."
These are the opening words to the prayer with which we and many millions of others are so familiar. We call God our Father and as today is Father's Day it seemed to me entirely appropriate that we should consider and celebrate fathers and father figures because they are important to us.
Having decided on the theme for this sermon I thought I ought to do a bit of research. Somewhere at the back of my mind I seemed to remember hearing that Father's Day was a fairly recent invention which came about in order to mirror the fact that we celebrate mothers on Mother's Day and a more cynical view is that it was dreamed up by the retail industry who wanted to sell us yet more cards and gifts and stuff. Without wishing to actually be cynical, I'm pretty sure there is an element of both involved.
Imagine my pleasant surprise then when I learned that in the Catholic parts of Europe Father's Day has been celebrated since the 14th or early 15th century, usually on the 19th March which is St Joseph's Day and it is now celebrated in many countries throughout the world although not necessarily on that date. Marking it on the third Sunday in June seems to have come from the United States when the tradition was established in the early twentieth century.
According to what I read, and this is a very concise history, the first recorded modern observance of a Father's Day was in 1908 in Fairmont, West Virginia and was the idea of Grace Golden Clayton whose father had been killed in a terrible mining accident the previous year along with 360 other men. Apparently 250 of these men were fathers and their loss left around a thousand children fatherless. Imagine the impact this must have had on the community as well on the individual families concerned. Ms Clayton suggested that her pastor, Robert Webb, of what is now the Central Methodist Church, honour these fathers but this seemed to have been a one off event at that time. The next few years saw numerous attempts to establish Father's Day as a regular celebration but for various reasons it didn't work out. After this somewhat faltering start it seems it was another woman, Sonora Smart Dodd who after hearing a sermon about Mother's Day suggested to her pastor that fathers should be honoured in a similar way. Her father, a veteran of the Civil War, had brought up his own six children without a mother. As a result, it was in 1910 that a number of local clergymen throughout Spokane in Washington, preached sermons honouring fathers. Again though the observance was local and not regular. Over the next four decades there were attempts to get Father's Day established as a permanent national holiday but they met with resistance from Congress. Apparently there was a good deal of cynicism about the motives of the trade groups who were helping to promote the idea of a father's day but in 1957, Senator Margaret Chase Smith accused Congress of ignoring fathers for forty years while celebrating the role of mothers and in 1966 President Johnson issued the first presidential proclamation honouring fathers and set the third Sunday in June as the date to mark it. Finally it was President Nixon who in 1972 signed this into law as a permanent national holiday. We seem to have followed the same tradition and I for one am very glad that we do honour and celebrate the role of fatherhood as well as motherhood and in the broadest senses of these terms.
Going back to the idea of St Joseph being associated with the first celebrations of fatherhood, I can't think of anyone more appropriate as a figurehead. He epitomises the good qualities we associate with being a good father: protector, provider, nurturer, teacher, and encourager to name but a few. I also think he is a great example because in Jesus case, he was not actually his biological father and yet he loved him and brought him up as his own son. He could have turned his back and walked away but he didn't. He could have boasted and made much of his role in Jesus life but we certainly don't hear anything like that in the Bible. He was an honourable, kind, modest and faithful man who was content to play the part God had given him in spite of what others may have thought of him. God chose well when he chose Joseph.
It always seems a shame to me that the men who day by day, quietly go about the business of being good, reliable, dependable father figures don't always get the credit they deserve because fatherhood like motherhood isn't always glamorous and fun. Sometimes it's hard and frustrating and even painful and heart breaking and there's a fair amount of self-sacrifice involved. All the more reason why the value of good fathers and father figures should never be underestimated. They are sharers in the shaping of the next generation and their influence is great and lasting so it needs to be good. We all need good male as well as female role models if we are to be balanced, compassionate and loving human beings. I am aware that unfortunately not everyone is blessed with having a good father and that there are damaging and destructive relationships that cause a great deal of lasting harm. But surely that is all the more reason to value, encourage and celebrate the good ones and hopefully there will be good father figures somewhere along the line for all of us. They don't have to be perfect, none of us are.
Sadly my own dad died nearly ten years ago. I still miss him. But because he was a good father he left me with many things that have enabled me to go on making my way through life, able to appreciate the good and deal with the not so good. We used to work together and in many ways we were kindred spirits. We could inspire and encourage each other and keep each other going when things were difficult which they often were. I could talk to him about pretty much anything, we didn't always agree but in the end there was always respect, understanding and kindness. But as with all of us there were things I kept to myself. I'm sure we all have thoughts and feelings at times that we are not proud of and wouldn't want anyone else to know about fearing that they would think badly of us or reject us if they knew.
But with our Heavenly Father it is different. To Him we are completely known and in spite of all our faults and failings we are loved anyway. I don't know about you but I find this knowledge very liberating. God is the only one I can say and confide anything to, confident that I will not be misunderstood and not being misunderstood matters so very much. How many of our problems in life, in society and in the wider world stem from misunderstandings and an unwillingness to forgive human imperfections and failings? How comforting to know that God sees beyond what we see and that his judgement is not the same as ours.
I recently re-read Psalm 139 and I think it expresses this close relationship with God far better than I can. Here are just a few of the verses and I hope they speak to you as they do to me.
"O Lord, you have searched me and known me. You know when I sit down and when I rise up; you discern my thoughts from far away. You search out my path and my lying down, and are acquainted with all my ways. Even before a word is on my tongue, O Lord you know it completely.
Where can I go from your spirit? Or where can I flee from your presence? If I ascend into heaven, you are there; if I make my bed in Sheol, you are there. If I take the wings of the morning and settle at the farthest limits of the sea, even there your hand shall lead me and your right hand shall hold me fast.
Search me, O God, and know my heart; test me and know my thoughts. See if there is any wicked way in me, and lead me in the way everlasting."
Here's to good fathers on earth and in Heaven. Let us value and celebrate them and let them know how much they mean to us. I think we all like to know that we are valued and loved.
Reader Kath Boyd