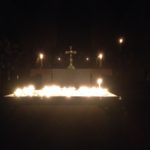 Based around 1 Peter 1:3-9, John 6: 37-40.
We are here tonight because of our individual experience of loss, it's the reason that has brought us together. We want to remember our loved ones who we have lost, in a special way. Of course we remember them in our own hearts in private or among our families & friends much of the time but in a way a service like this helps us to mark their lives and their passing in a more formal, more public way and perhaps by doing this in church we feel that we can draw closer to God & hold our loved ones before him in prayer. It also gives us a space where we can be open about our feelings of loss and hurt and sadness without feeling that we have to put on a brave face for the sake of others. It's ok to feel miserable, it's ok to cry.
Sadly the older we get the more likely we are to experience the loss of people we care about. It's hard enough when those people are very old and have had a good life but even harder when a death is untimely or through illness or is sudden when we were unprepared and feel cheated out of the time we thought we'd have together or of the chance to say goodbye. This can leave us feeling pretty raw and unfortunately there is no set formula or ritual or time to get over our grief. Each loss is unique because we are all unique and the relationships we have with one another are unique. What we feel and how we deal with loss is personal to us, there is no right or wrong way to grieve. That said though, it isn't good to shut others out totally or hide away for too long for their sake or our own.
I'm at the stage in life where I have already been to too many funerals, family members, friends, neighbours and colleagues, all people who one way or another mattered to me a great deal and some I loved very dearly. The losses I feel most keenly include people from opposite ends of the age spectrum, my little first granddaughter, Lucy, who I never had the pleasure of getting to know, three friends who died way before they should have done and my wonderful dad who I had known & loved my whole life. Ten years on I still miss him very much and often wish I could ask his advice or share my thoughts and ideas with him because he of all people would understand me.
All those we lose leave a gap in our lives that can never truly be filled and we can feel that loss very keenly for a long time. Sometimes we wonder if we will ever be able to cope with it, but cope we must.
Only a few days ago Ann, one of my sister's friends attended the funeral of her first  granddaughter, Cali Jane, who died at just a few months old after spending much of that time in a specialist hospital. After Ann came out from the service my sister said she looked utterly heartbroken and distraught and said "what now?" It's the awful question that faces us all. Its two little words that express so much. What do we do when all the formalities are completed and we are left alone with our thoughts and feelings still raw, like open wounds that won't stop hurting?
One of the changes that I think helps us in more recent times is how we say goodbye to our loved ones. When I was little funerals were almost always sombre, sad, serious occasions which tended to follow fairly rigid rituals that left little room for personal expression. In this part of the world everyone wore black or dark colours, looked solemn and children were usually excluded from the proceedings for fear it might upset them. Thankfully that's largely changed now and we are more likely to celebrate the life of the person we have lost. Even little lives barely lived or not actually lived at all can be celebrated. If in the midst of our feelings of loss we can look at the good things we shared with our loved ones then we are likely to find that there is indeed much to celebrate and even smile about.
It might sound like an odd thing to say but I've been to some amazing funerals where a lot of joy as well as sorrow was expressed. Laughter has its place among the tears and there is nothing wrong with that. I don't think I've ever come away from a funeral without knowing a lot more about the person who has died, even when I knew them well, or so I thought. Crying and laughing together helps us take that first step into the "what now" that we all have to deal with after loss. It helps us to keep putting one foot in front of the other until we find our way to a new form of normality. As long as we hold our loved ones in our hearts we are not abandoning them.
We have come together tonight to remember our loved ones. They are lost to us here and now but I take comfort in knowing that they are not lost to God but are precious to him. A line from our reading from John's Gospel reassures me if this. Jesus says "And this is the will of him who sent me, that I shall lose none of those he has given me, but raise them up on the last day. For my Father's will is that everyone who looks to the Son and believes in him shall have eternal life, and I will raise them up at the last day". I pray that you too will find comfort in this.
Amen.
Reader Kath Boyd