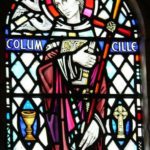 Based around Matthew 14: 22-33.
For the last few years it has seemed that anywhere you may have looked at merchandising aimed at children you have been found items featuring characters from "Frozen".  Last Sunday this film, "Frozen", was shown on TV and so I decided that I ought to know what it was about.  I had heard of the character Elsa (and knew that "Elsa dresses" were popular for dressing up) and of the song "Let it go", that has apparently become fashionable with some people as a mantra for not getting hung up on things in the past. I had also come across the rather oddly shaped snowman who I now know is Olaf, but that was about all I knew.
However, I very soon realised that the real heroine of the film is not Elsa, but her feisty sister, Anna. Elsa might be older and have special powers to turn things to ice but Anna is the sociable, vibrant and caring sister.  When Elsa turns her whole world to ice and flees to a solitary ice castle, it is Anna who courageously sets off alone to find her sister, to confront her, determined to undo the icy spell and restore life to the world. Anna is determined to do whatever it takes to save the world and her sister. Ultimately it is Anna's love and self sacrifice that save the day when, even though mortally wounded by Elsa, she throws herself in harms way to save Elsa's life and break the spell.  Elsa has extraordinary powers but it is her life-loving, courageous, impetuous and feisty sister who is the real heroine. It is Anna's actions that restore life to the world, achieving the real miracle of restored joy and harmony.
So what has this to do with our Gospel for today?  Last week and this week our Gospel stories are known by the miraculous events occurring within them – Feeding the Five Thousand when Jesus makes 5 loaves and 2 fish feed more than 5000 people and Walking on the Water when Jesus walks across the lake to reach his disciples struggling against the wind in their boat.  These amazing actions are not party tricks to dazzle or even the main event. The underlying importance of these stories is Jesus' compassion and love for the people who followed him and his trustful dependence on prayer to his Father.
In last week's story Jesus had set off across the lake to find a quiet place to mourn John the Baptist who had been killed by Herod but the crowds rushed round and crowded the shore where he arrived.  Jesus did not turn them away, even though he may had wanted to, but had compassion on them, healed the sick and spoke to them. Later in the day he was concerned for their physical needs and when the disciples urged him to send them away to buy food he told them to give the people food.  But they said they only had 5 loaves and 2 fish.  So Jesus blessed what there was and had the disciples distribute it and there was enough for everyone and to spare. There was no drama – food did not fall from the sky or pop up from the ground but there was enough for all as the distribution progressed.
Jesus then sent the disciples away by boat, dismissed the crowds and went off alone to pray.  During the night the disciples, even though some of them were experienced boatmen, were still in the boat struggling against the wind and Jesus came to them, walking on the water. The disciples were terrified but Peter asked if he could walk on the water too and Jesus called him but fear overcame Peter's faith and Jesus had to restore both of them to the boat.
But it is not the miraculous that should hold our attention – it is rather Jesus' care for all the people in whatever circumstance, and his willingness to act to make life better.
We can get hung up on the miraculous and forget that the mundane is often the place where real miracles happen, as demonstrations of human love, kindness, compassion, courage achieve amazing things.  And human love backed by prayer and deep faith in God can achieve spectacularly amazing things.
But we sometimes have to let go of our fears and step beyond the familiar to make things happen.  Anna had to leave what she knew and venture far away to find Elsa and reverse the wintry curse on their homeland.  But is is Elsa who sings the song "Let it Go". I have heard people quote that song as an ideal of putting the past behind and stepping out into the future.  But that is not the context of the song in the film.  Elsa has turned her world into an icy wasteland and fled.  She is now saying "Let it go" and trying to tell herself that she likes living in the cold.  She is letting go of warmth and life, turning her back on a world she has cursed to icy winter and adopting a cold, solitary existence in a lonely ice palace – hardly a liberating "letting go".  Anna releases her from this self-imposed exile and breaks the wintry spell on the land by her acts of love and positive giving.
We need to let go of the negative things that hold us back and take hold of what gives life to ourselves and others.  By our trust and faith in God we can do that – and go beyond what we could achieve alone.
In my prayer time this week, all the meditations have been about St Columba and the monastery on Iona.  This was fitting really when thinking about the disciples in their boat as the monks largely travelled by sea in coracles at a time when land travel was very difficult.  From Iona, Columba and his missionary monks travelled far and wide taking the Gospel to many places, founding churches and monasteries along the way in Scotland and the Western Isles.  On the way they encountered many storms – real wind, waves and rain as well as spiritual ones and they trusted in God and pressed on, driven by a desire to share the Gospel and bring God's love and life to more people.
One reflection included this poem by St Columba:*
Alone with none by Thee, my God,
I journeyed on my way:
What need I fear, when Thou art near
O King of night and day?
More safe am I within Thy hand
Than if a host did round me stand.
The child of God can fear no ill,
His chosen dread no foe:
We leave our fate to Thee, and wait
Thy bidding when to go.
'Tis not from chance our comfort springs,
Thou art our trust, O King of kings.
Placing trust in God, and reaching out to others, Columba and his monks achieved extraordinary things. And we can be assured that Jesus is by our side at all times, knows what we need and loves us through it all.
It is not miraculous powers we should be in awe of or hanker after.  Rather we should affirm life, reach out to others, believe in the good, trust in God and see what amazing things come from that.
Let go of past fears. Turn away from bad habits. Seek God's heart. And may life and love flow in us and enrich us and those around us. Choose life and love, and trust in God. Believe in Jesus by your side and may you see desolation turned into richness, desert wastes turned into verdant spaces and frozen hearts freed to overflow with joy.  And may we all travel safely through all the stormy phases of life!
Reader Anne Grant
* As quoted in "Celtic Daily Prayer", from the Northumbria Community, Collins 2005, p.482