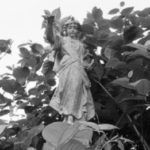 Our AGM will be on Friday 23 June this year. This is always a great opportunity to get a good idea of the whole range of activities under-taken by the Friends. Hugh Waterhouse will be giving a talk in the first half of the meeting followed by the AGM business after a break.
The Commonwealth War Graves Commission sign has now been affixed to the gatepost at the cemetery entrance.  It looks good and helps to advertise the presence of war graves on our site.
We have several events that are part of Walkley Festival – please consult the Festival programme for details.  One new venture will be the Big Draw on Saturday 1st July.
The Bracken Bash is this month. This helps keep the bracken under control and prevents it spreading.
Do join us for any event. No experience necessary!
Forthcoming events in the cemetery 
AGM:  FRIDAY 23 June 7.30, St Mary's Community Hall (Refreshments available before and during meeting)
WORKDAY: Bracken Bash THURSDAY 22 June 2-4pm

TOURS:  SUNDAY 2 July (Walkley Festival Tours)
                    2pm and 4pm
FESTIVAL EVENT:  SATURDAY 1 July  Big Draw 12-4pm