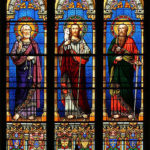 Based around Romans 8:1-8, Matthew 16:13-20.
For quite a long time now I've been aware that when I've been preaching I've made reference to finding some of the readings challenging or difficult to get into and it has bother me a bit. So I'm very happy to say that when I looked at the readings set for today I was really pleased because I liked them both, even the one from St Paul! I was particularly pleased because someone I have long wanted to consider in a sermon is St Peter and the passage from St Matthew's Gospel provides exactly that opportunity. We hear Peter mentioned a great deal in readings but he isn't usually the focus of the sermon. I really like him because to me he represents us, the common people. With all his faults and failings he is one of the central characters in Jesus' life and ministry and that gives me hope that we too, however flawed we may be, can also have a part to play.
For anyone who reads or hears the New Testament stories I don't think there can be any doubt that Peter loves and believes in Jesus. But he keeps getting things wrong. He's always opening his mouth and putting his foot in it. He's a classic example of opening mouth before engaging brain and Jesus has to keep putting him straight. He is so full of enthusiasm that he at times gets carried away with his ideas. In the story of the Transfiguration when Jesus takes Peter, James and John up a high mountain with him and is transfigured before them and Moses and Elijah also appear, Peter wants to build three dwellings for them. He rather misses the point of what he is witnessing. He tries almost too hard but what cannot be doubted is his sincerity and above his love for Jesus.
How heartbreakingly sad then that next to Judas it is Peter's failure to stand by Jesus when it mattered most that is so well known. Jesus has warned all his disciples that they will let him down at the end but Peter is adamant that he will not. When Jesus said to him "Truly I tell you, this very night, before the cock crows, you will deny me three times" Peter couldn't believe he would do such a thing. In his own mind he was ready and willing to give his life for Jesus; in so many ways he already had. And yet when it came to the crunch, for the most human of reasons, he did fail. He was scared, just as most of us would be.
We all like to think or at least we hope that in bad situations we would do the right thing, whatever that might be, but how often in reality do we, in the moment, lack the courage to do so, only to regret it bitterly afterwards as Peter did.
And yet it is this man, Peter, who is frequently impetuous, who goes off half-cocked, who gets overrun with enthusiasm and doesn't think things through properly or fails to understand, this man who makes so many mistakes, it is this man that Jesus describes as his rock. It is this man on whom he will build his church. It was not until I looked at our reading from Matthew again and again that I began to realise just how powerful and meaningful that paragraph is. Jesus is entrusting the future of his church to this person who he knows to be flawed in so many ways. Just take a moment to think about that.
We are very used to considering the notion of putting our trust in God or in Jesus and perhaps, for all sorts of reasons, finding that very challenging at times but how often do we consider this the other way round and see that God has put his trust in us? If we really take that on board it can be both humbling and terrifying, what an awesome responsibility. But in Peter we have a guide to rescue us. Who better than the one who so often got it wrong but who did indeed go on to be the rock on whom Jesus built his church, who better to show us the way and give us the courage to keep going, especially when things are hard.
Just like many other people, I have never been overburdened with self-confidence. I want to believe that I can do various things and I'll work hard to develop the necessary skills and knowledge to accomplish them but so often fear and doubt get in the way. When it came to my path into reader ministry there were so many times when I could have talked myself out of it, convinced myself that I didn't know enough or I was not the right sort of person or I just couldn't do it. And yet somehow I was given the wherewithal to get past all the obstacles. People like Peter give me hope and courage to keep going. He shows what God can do with whatever we have and sometimes he does it in spite of what we think we haven't got. So often he has more faith in us than we have in ourselves.
Originally I wasn't intending to use the passage from St Paul's writings but then I realised that he did have a contribution to this sermon and that it ties in with what we can learn from St Peter. I think Paul's advice that we should Not think more highly of ourselves than we ought to think is worth listening to. I take it to mean that we shouldn't become self-important or think that we can work everything out ourselves without God because we're not and we can't. That is, we're not supremely important and we can't do everything alone. Next he reminds us that we are not just individuals but that we, who are many, are one body in Christ, and individually we are members one of another. In other words we all have our part to play but we all benefit from the contributions of each other and working together. It's how society works. The final part of the reading describes some examples of the roles we might have and the gifts we have been given to enable us in these roles; "Prophesy in proportion to faith: ministry, in ministering; the teacher, in teaching; the exhorter, in exhortation; the giver, in generosity; the leader, in diligence; the compassionate, in cheerfulness." We could easily add a lot of modern day examples to the list. A role doesn't have to be overtly religious or spiritual to have value. Practical stuff will always need to be done. Whatever we do in building and sustaining a good society is part of "Loving our neighbours as ourselves" and is what God commands us to do. Cooking and cleaning and building and repairing and farming and the making of music and artworks and all sorts of other roles are mentioned in the Bible and Jesus himself both worked with his hands and he fed and healed and cared for people in practical as well as spiritual ways.
So whatever your calling is, whether it's an up front, public role or a quiet, behind the scenes one or perhaps a bit of both, learn to value it and allow God to work through you. We don't have to do it all on our own. As Both Peter and Paul have already shown us, God will give us what we need for the work he asks of us.
Jesus said "you are Peter, and on this rock I will build my church, and the gates of Hades will not prevail against it." His trust in the wonderfully imperfect Peter was not misplaced. With God's help we are still here (and with his continued help it is our calling to go on passing the baton to the generations to come for as long as it takes).
I would like to end with a short prayer that I have used on previous occasions and I think it's rather apt for the message of this sermon.
Father, take the little that I have to offer this day and use it as only you can. (Based on a prayer by Douglas Cleverly-Ford)
Amen.
Reader Kath Boyd