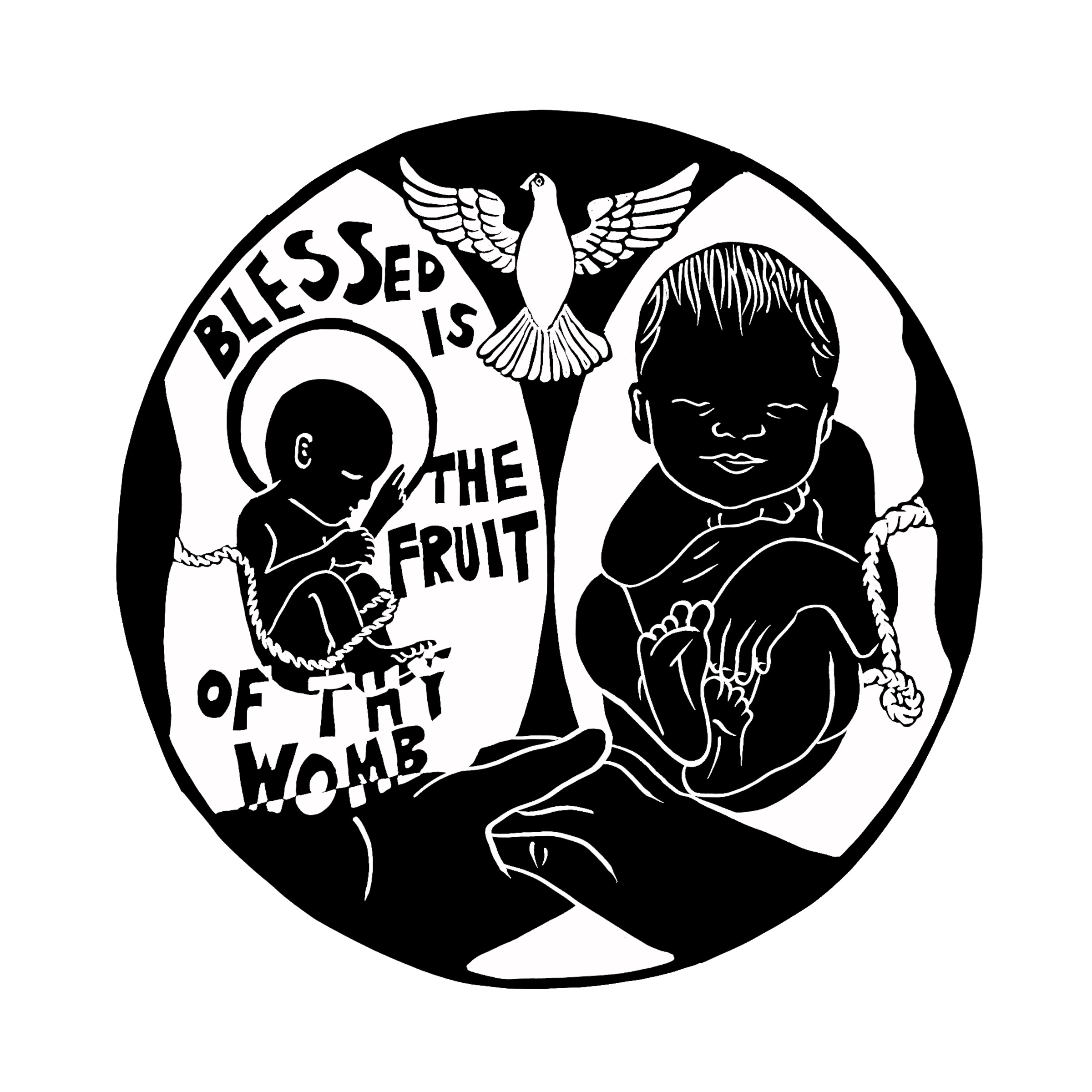 The Readings
Isaiah 7.10-16
Again the Lord spoke to Ahaz, saying, Ask a sign of the Lord your God; let it be deep as Sheol or high as heaven. But Ahaz said, I will not ask, and I will not put the Lord to the test. Then Isaiah said: 'Hear then, O house of David! Is it too little for you to weary mortals, that you weary my God also? Therefore the Lord himself will give you a sign. Look, the young woman is with child and shall bear a son, and shall name him Immanuel. He shall eat curds and honey by the time he knows how to refuse the evil and choose the good. For before the child knows how to refuse the evil and choose the good, the land before whose two kings you are in dread will be deserted.
Matthew 1.18-end
Now the birth of Jesus the Messiah took place in this way. When his mother Mary had been engaged to Joseph, but before they lived together, she was found to be with child from the Holy Spirit. Her husband Joseph, being a righteous man and unwilling to expose her to public disgrace, planned to dismiss her quietly. But just when he had resolved to do this, an angel of the Lord appeared to him in a dream and said, 'Joseph, son of David, do not be afraid to take Mary as your wife, for the child conceived in her is from the Holy Spirit. She will bear a son, and you are to name him Jesus, for he will save his people from their sins.' All this took place to fulfil what had been spoken by the Lord through the prophet:
'Look, the virgin shall conceive and bear a son,
and they shall name him Emmanuel',
which means, 'God is with us.' When Joseph awoke from sleep, he did as the angel of the Lord commanded him; he took her as his wife, but had no marital relations with her until she had borne a son; and he named him Jesus.
Scripture Quotations are from: New Revised Standard Version Bible: Anglicized Edition, copyright © 1989, 1995 National Council of the Churches of Christ in the United States of America. Used by permission. All rights reserved worldwide. http://nrsvbibles.org
The Sermon
By Rev Dr Matthew Rhodes
Isaiah 7.10-16 and Matthew 1.18-25
My wife Cathy is the diocesan environment officer but before that she was an
obstetrician. Obstetrics is a very demanding but also very fulfilling profession. Over
the years Cathy has looked after hundreds of mothers and their babies. She has a
vast family of children that she has helped to bring into the world. As her husband I
have heard a bit about some of them. Always anonymously of course. Sometimes I
have baptised them, but on the whole I have been a bystander. One step removed
from these miracles of new life. And I've always felt a slight sense of a connection
with Joseph who appears every three years in the lectionary on this Sunday. He
stands on the edge of the story of Jesus' birth. He doesn't get many mentions and
then he fades into the background. We assume that he was older than Mary and that
he probably died before Jesus began his public ministry.
We don't tend to read the beginning of Matthew's Gospel. It starts with a long
genealogy from Abraham to Jesus via Joseph. It is important for Matthew, writing for
a Jewish Christians audience, that Jesus is a descendant of Abraham, and more
importantly of David. That's why he was born in Bethlehem, David's town, because
Joseph was of the house and lineage of David. But then we have today's Gospel.
Which makes very clear that Joseph was not Jesus' biological father.
So is this the punchline to a very elaborate joke on Matthew's part or is this a way of
saying that Jesus was both human and divine? Matthew is ambiguous. As Paul puts
it in his Letter to the Romans, as to his human nature Jesus was a descendant of
David, but through the Spirit of holiness he was declared to be the Son of God.
In the very patriarchal culture into which Jesus was born, it was very important that
Mary was a virgin when she was married. Matthew sees this as the fulfilment of
Isaiah's prophecy. The virgin will be with child and will give birth to a son, and will
call him Immanuel. But this passage from Isaiah was written for a particular historical
context which deserves a bit of unpacking.
At the time, Israel was divided into two kingdoms, Ephraim in the north and Judah in
the south. Ephraim had joined forces with Syria to wage war on Judah. So far, they
had not been successful but the King of Judah, King Ahaz, was afraid that his
kingdom might be conquered. In our reading, Isaiah tried to tell King Ahaz to trust in
God because the alliance between Ephraim and Syria would fall apart. But instead,
Ahaz turned to their common enemy Assyria for help. He failed to trust in God. And
this was in marked contrast to Mary and Joseph who were able to trust.
In the passage from Isaiah, we have the Hebrew word almah which means 'young
woman' rather than virgin. In the Septuagint, the Greek translation of the Old
Testament, this is translated as parthenos which does mean virgin, and Matthew
uses this translation too. In the past, the church has got very hung up about whether
Mary was a virgin or not. You may remember the controversies around David
Jenkins the former Bishop of Durham in the 1980's. Nowadays with things like IVF
and egg and sperm donors and surrogate mothers we are less concerned about
whether Mary was a virgin or not. The way in which we treat Mary says as much
about us as it does about her. She reflects our humanity back to us which is
important for many Christians around the world. The only thing we have to watch is
that because Mary can appear to be a fairly blank canvass, her image has been
used to manipulate people, and especially women.
The reason why Isaiah talked about a young woman being with child is that the
timescale for what was about to happen to Judah was nine months. And this of
course is the time it takes for a woman to carry a child. At the end of nine months
Isaiah prophesied that the crisis would be over. By then it would be clear that God
had really been with Judah all the time and the name of the child would reflect this.
He would be called Immanuel which means God with us. Not only would the alliance
between Ephraim and Syria have broken down by then but Assyria would have
invaded them and scattered their people.
We are told that this child would eat curds and honey which sounds lovely. But if we
read on in Isaiah, we find that Assyria turned on Judah and scattered its people. The
reason why the child would eat curds and honey rather than bread and figs and
grapes is that the people became nomads, refugees, wandering the land with
perhaps just a cow or a few goats. Mary and Joseph of course became refugees in
Egypt and we see them in the lives of so many on the move today. As ever, the Bible
has echoes, not just within itself but through history.
The fall of Judah came as a great shock. The coming of Immanuel is not just about
peace and security. God is with us but if we do not acknowledge and trust God then
things can go badly wrong. In our Gospel Joseph is inclined not to trust God. Just as
Ahaz forms a strategic alliance rather than listen to Isaiah, so Joseph is initially
inclined to break off his engagement quietly. That would probably have been the
sensible, worldly thing to do. And yet Joseph does not do this. He takes Mary as his
wife and Jesus as his own son. Sometimes we too need to listen to dreams and
angels and step out in faith as Joseph and Mary did.
Every Advent and Christmas I am struck again by how different the story could have
been. How vulnerable Mary and her baby were. Birth in this country is not without
risk and around the world, maternal mortality is still very high. Being an unmarried
mother is not really an issue in this country but it is in many other parts of the world.
In the culture of his time, no one would have blamed Joseph for breaking off his
engagement. But he took a risk He played his part in the drama and took on Jesus
as his own. In the story of the nativity, God risks everything with the human race and
challenges us to take risks as well. Jesus comes to us in the vulnerability of a tiny
baby and he invites us to be vulnerable too. Amen.
The Prayers
Prepared by Kath