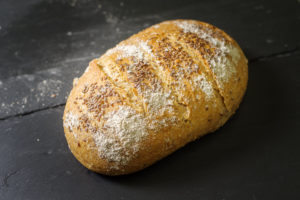 The Readings
Exodus 16.2-4, 9-15
The whole congregation of the Israelites complained against Moses and Aaron in the wilderness. The Israelites said to them, 'If only we had died by the hand of the Lord in the land of Egypt, when we sat by the fleshpots and ate our fill of bread; for you have brought us out into this wilderness to kill this whole assembly with hunger.'
Then the Lord said to Moses, 'I am going to rain bread from heaven for you, and each day the people shall go out and gather enough for that day. In that way I will test them, whether they will follow my instruction or not.
Then Moses said to Aaron, 'Say to the whole congregation of the Israelites, "Draw near to the Lord, for he has heard your complaining." ' And as Aaron spoke to the whole congregation of the Israelites, they looked towards the wilderness, and the glory of the Lord appeared in the cloud. The Lord spoke to Moses and said, 'I have heard the complaining of the Israelites; say to them, "At twilight you shall eat meat, and in the morning you shall have your fill of bread; then you shall know that I am the Lord your God." '
In the evening quails came up and covered the camp; and in the morning there was a layer of dew around the camp. When the layer of dew lifted, there on the surface of the wilderness was a fine flaky substance, as fine as frost on the ground. When the Israelites saw it, they said to one another, 'What is it?' For they did not know what it was. Moses said to them, 'It is the bread that the Lord has given you to eat.
John 6.24-35
So when the crowd saw that neither Jesus nor his disciples were there, they themselves got into the boats and went to Capernaum looking for Jesus.
When they found him on the other side of the lake, they said to him, 'Rabbi, when did you come here?' Jesus answered them, 'Very truly, I tell you, you are looking for me, not because you saw signs, but because you ate your fill of the loaves. Do not work for the food that perishes, but for the food that endures for eternal life, which the Son of Man will give you. For it is on him that God the Father has set his seal.' Then they said to him, 'What must we do to perform the works of God?' Jesus answered them, 'This is the work of God, that you believe in him whom he has sent.' So they said to him, 'What sign are you going to give us then, so that we may see it and believe you? What work are you performing? Our ancestors ate the manna in the wilderness; as it is written, "He gave them bread from heaven to eat." ' Then Jesus said to them, 'Very truly, I tell you, it was not Moses who gave you the bread from heaven, but it is my Father who gives you the true bread from heaven. For the bread of God is that which comes down from heaven and gives life to the world.' They said to him, 'Sir, give us this bread always.'
Jesus said to them, 'I am the bread of life. Whoever comes to me will never be hungry, and whoever believes in me will never be thirsty.
New Revised Standard Version Bible: Anglicized Edition, copyright © 1989, 1995 National Council of the Churches of Christ in the United States of America. Used by permission. All rights reserved worldwide. http://nrsvbibles.org
The Sermon
By Rev'd Sue Hammersley, St. Marks Church, Broomhill
This will be uploaded when available.
Prayers
Prepared by Oliver G
Lord God, we thank you for the work of the international scientific community in the development and delivery of the Covid-19 vaccine. As we appreciate the nature of our globalised world during this pandemic, help us to advocate for vaccine equity to enable all nations to see hope for the future.
Lord in your mercy,
Hear our prayer.
Lord God, we thank you for the rich flora and fauna we see in our gardens and parks during the summer season. As we see the effects of climate change nationally and internationally, we ask that you be with our neighbours in this world, the global village, who are experiencing devastating floods and uncontrolled wildfires. We pray significant steps will be made by our leaders at COP26 later in the year.
Lord in your mercy,
Hear our prayer.
Thank you for our community and the people of Walkley. Help us at St. Mary's to look outwardly, identifying what need there is locally and helping us to respond appropriately. Where we see hunger, help us to bring satiety. Help us to work with local organisations to provide both physical and spiritual food to those who need it most.
Lord in your mercy,
Hear our prayer.
Lord God, we thank you for our families whom we have been able to see more of recently. We pray that you be with those who have no family, or are estranged. We pray they may find your unconditional love through their neighbours and friends.
Lord in your mercy,
Hear our prayer.
As we celebrate the end of restrictions, help us to be aware of those who still have anxieties and apprehensions, and encourage us to go at the pace of the slowest member. Be with those who are still struggling with the physical and psychological effects of the past 18 months. We take a moment of silence to think of those known to us personally who are suffering in mind, body or spirit, and pray that you will bring your healing hand.
Merciful Father,
accept these prayers
for the sake of your Son,
our Saviour Jesus Christ.
Amen.