Due to the Covid 19 pandemic meetings of the Reading Group are currently not happening. Please watch this space, Twitter or Facebook for updates.
St Mary's Reading Group meets every 2 months to discuss a book suggested by those in the group from a broadly Christian perspective. We read a mixture of fiction and non-fiction and by a wide range of authors, some who are practising Christians, some who practise a different faith and others who do not consider themselves religious. In the 4 or 5 years we have been running we have managed to read a different author each time. The books are usually thought-provoking and often lead to a good discussion.
Here are some of the books we have read in the past couple of years:
Steven Croft - The Advent Calendar, Mitch Albom - Have a Little Faith, Rachel Joyce - The Unlikely Pilgrimage of Harold Fry, Sarah Winman - When God was a Rabbit, Chimamanda Ngozi Adichie - Purple Hibiscus, Karen Armstrong - Through the Narrow Gate, Colm Tóibín - The Testament of Mary, Sara Maitland - A book of Silence Susan Cain - "Quiet: the power of the introvert in a world that can't stop talking, Ann Patchett - Run, Alan Billings - The Dove, the Fig Leaf and the Sword, Catherine Ryan Hyde - Pay it Forward, Catherine Fox - Angels and Men, Charles Dickens - A Christmas Carol, Malala Yousafsai - I am Malala, Sue Monk Kidd - The Secret Life of Bees.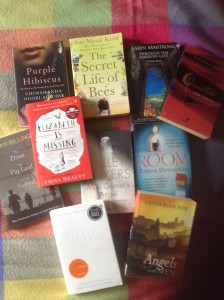 We welcome all to the group. For a good discussion to happen, it does help if you have read the book, and fairly recently, but we don't turn anyone away if they haven't! We advertise the next book and meeting date on the church weekly news sheet, so if a particular book interests you, do come along. You don't have to commit to attending every meeting - just dip in and out as you please.